Member One Federal Credit Union Feeds Local Families for the Holiday
Share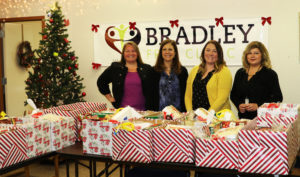 Member One delivered over 60 meals to families in need throughout southwest and central Virginia during the holiday season.
Member One employees across the credit union's footprint in Roanoke, Lynchburg, Franklin County, and the New River Valley helped coordinate the shopping and delivery of meals, which included ham or turkey, potatoes, green beans, yams, rolls, and pie.
The food boxes were delivered to the Bradley Free Clinic, the Free Clinic of Central Virginia, the Free Clinic of Franklin County, and the Community Health Center of the New River Valley. Member One partnered with the clinics to identify families who would benefit from help with their holiday meal.
"One of our families stood out for me," said Janine Underwood, Executive Director, Bradley Free Clinic in Roanoke. "She and her husband have six children. She expressed how thankful she was and that she didn't know what they would have done without the food box."
Giving back to the community is a focus of the credit union throughout the entire year, but especially during the holiday season. This effort is an example of Member One employees joining together for a common purpose and the credit union putting people before profits.
"This time of year can be difficult to navigate financially for many families," said Paul Economy, Chief Retail Officer. "That's why we wanted to help out by providing a holiday meal."